I have two teasers this week because I have stacks of new books on my desk!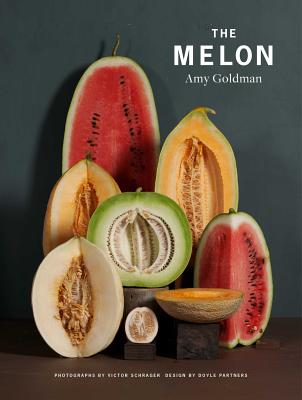 These types of plants may not be as easy to grow as tomatoes, but you don't need a staff of gardeners and a greenhouse, either. If you are blessed with a long, warm, dry summer, and a garden with lots of room to sprawl, plants produce flavorful fruit in just a few months.
The Melon
by
Amy Goldman
. Goodman is a gardener, writer, and heritage seed advocate, Her latest book is a voluptuous, picture-filled celebration of melons and watermelons, a revamp of her original melon book. It would make a great holiday gift for gardeners, heritage seed savers, and anyone who loves beautiful photography.
Our summers here in Portland are typically cool and damp, not warm and dry. We do not grow melons here (although
Hermiston, Oregon in the eastern part of the state is known for a particularly sweet melon variety
), but the gorgeous pictures in this book make me wish we did.
Bart turned and staggered out the back door leaving his empty Hennessey bottle on the poker table. Roosevelt tucked the .38 back in his belt, and the two men looked at each other, both taking deep breaths and looking out the window at Bart's disappearing, bobbing head, bent forward and slumping down the darkened street.
Frank's Revenge: Albina After Dark
by
Don DuPay
. This new crime novel set in 1970s Portland is as gritty as it gets. DuPay is a former homicide cop and his debut novel is great urban noir.
Teaser Tuesdays is hosted by
The Purple Booker
. Participants share a two-sentence teaser from the book they are reading or featuring. Please remember to include the name of the book and the author. You can share your teaser in a comment below, or with a comment or link at the Teaser Tuesday site, where you can find the official rules for this weekly event.