BOOK BEGINNINGS ON FRIDAYS
THANKS FOR JOINING ME ON FRIDAYS FOR BOOK BEGINNING FUN!
MY BOOK BEGINNING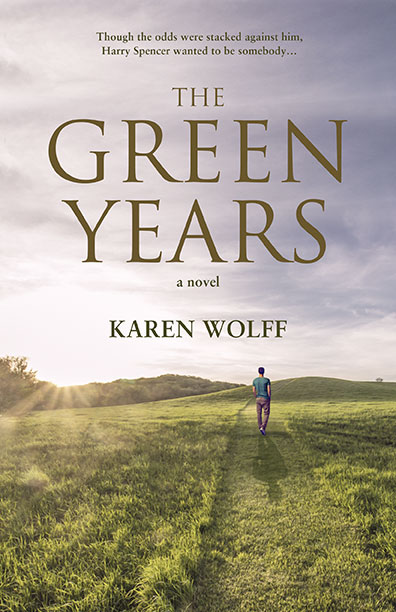 Between Iowa and South Dakota, the Sioux River makes a bend to the west as if to escape its eventual disappearance into the muddy waters of the Missouri River.
The Green Years
by Karen Wolff (
BHC Press
). This historical novel is the story of Harry Spencer, a boy growing up in South Dakota in the 1920s, who has to find his own path after his father returned from WWI a broken man.
I've just dipped into
The Green Years
and can tell already it would make a good Father's Day book for older dads looking for a trip down memory lane, especially if they have any small town or country living in their backgrounds. My dad grew up in Nebraska and I know he will love it.
PUBLISHER'S DESCRIPTION
When eight-year-old Harry Spencer's father returns from WWI with a missing arm, his father's bitterness shatters their relationship. Though confused and brokenhearted, Harry is determined to make something of himself. Endeavoring with heart and sometimes-humorous results, he sets out on his path in life, working in his granddad's store, selling medicinal salves, washing windows, and falling in love.

This historical coming-of-age story set against the backdrop of small-town life will tug at your heartstrings as Harry discovers who he is, who his father is, and how to heal the past.
Please join me every Friday to share the first sentence (or so) of the book you are reading, along with your initial thoughts about the sentence, impressions of the book, or anything else the opener inspires. Please remember to include the title of the book and the author's name.
EARLY BIRDS & SLOWPOKES:
This weekly post goes up Thursday evening for those who like to get their posts up and linked early on. But feel free to add a link all week.
SOCIAL MEDIA:
If you are on Twitter, Instagram, or other social media, please post using the hash tag #BookBeginnings. I try to follow all Book Beginnings participants on whatever interweb sites you are on, so please let me know if I have missed any and I will catch up. Please find me on
Instagram
,
Facebook
, and
Twitter
.
YOUR BOOK BEGINNING
TIE IN:
The Friday 56
hosted by Freda's Voice is a natural tie in with this event and there is a lot of cross over, so many people combine the two. The idea is to post a teaser from page 56 of the book you are reading and share a link to your post. Find details and the Linky for your Friday 56 post on
Freda's Voice
.
MY FRIDAY 56
I rode by Great-Aunt Lida's house. She always had fresh baked cookies, and I figured she'd offer me some. Then I saw through the kitchen window that she and Gram were drinking coffee and, no doubt, gossiping about the elopement.