BOOK BEGINNINGS ON FRIDAYS
THANKS FOR JOINING ME ON FRIDAYS FOR BOOK BEGINNING FUN!
Well, I forgot to post early yesterday because I forgot what day it was! That's the problem with working from home -- I lost track of the days. Is that happening to you?
MY BOOK BEGINNING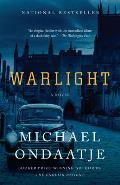 In 1945 our parents went away and left us in the care of two men who may have been criminals.
Warlight by Michael Ondaatje. That is a terrific opening sentence! I didn't read
The English Patient
because I feared it would be boring. My book club picked Warlight this month and I am glad they did because this is a great story -- lots of plot, characters, and mood. It has everything going for it.
Our book club is going to meet virtually next week, by Zoom. Oregon is on a Stay Home order, so we cannot gather. We will have our own snacks and beverages of our choice, and meet on the screen instead. It will be different.
Please join me every Friday to share the first sentence (or so) of the book you are reading, along with your initial thoughts about the sentence, impressions of the book, or anything else the opener inspires. Please remember to include the title of the book and the author's name.
EARLY BIRDS & SLOWPOKES:
This weekly post goes up Thursday evening for those who like to get their posts up and linked early on. But feel free to add a link all week.
SOCIAL MEDIA:
If you are on Twitter, Instagram, or other social media, please post using the hash tag #BookBeginnings. I try to follow all Book Beginnings participants on whatever interweb sites you are on, so please let me know if I have missed any and I will catch up. Please find me on
Instagram
,
Facebook
, and
Twitter
.
YOUR BOOK BEGINNING
TIE IN:
The Friday 56
hosted by Freda's Voice is a natural tie in with this event and there is a lot of cross over, so many people combine the two. The idea is to post a teaser from page 56 of the book you are reading and share a link to your post. Find details and the Linky for your Friday 56 post on
Freda's Voice
.
MY FRIDAY 56
We were more concerned that The Moth had invited someone we did not know into our parents' home. We've never considered such a possibility. We were also nervous about our escape from the school and how it would be taken by our untested guardian.